Fly QantasLink and support the National Breast Cancer Foundation


QantasLink, Australia's largest regional airline, is proud to announce its Diamond partnership with the National Breast Cancer Foundation (NBCF).
Leading the fight for improved prevention and treatment of breast cancer, the NBCF is a not-for-profit organisation that promotes and supports breast cancer research in all its forms.
Our partnership and fundraising will help promote the awareness of finding a cure for the thousands of Australian women and their families affected by this disease every year.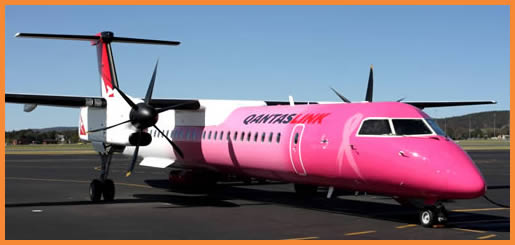 Our goal is to reach a fundraising target of half a million dollars over the next twelve months. For our first initiative during the month of October, QantasLink will donate $1.00 to the NBCF for every passenger that flies with us.
In support of the NBCF, QantasLink has painted one of its Q400 turbo-prop aircraft, the Foundation's signature pink. This aircraft will operate services across QantasLink's extensive network and carry the message to regional Australians for the awareness, prevention and treatment of breast cancer.
As part of our Diamond partnership, PinkLink days will be held across regional Australia to continue to raise awareness and the necessary funds for breast cancer research.
The vital funds raised will help make a difference to someone's life.
MJ'z Enterprises are donating items to QantasLink to assist in raising money for this worthy charity, if you would like to know more or can help by donating a item that can be used for a charity event please call 1800 30 38 48 or email mario@mjzenterprises.com.au and someone from our office will contact you.
If you would like to contact a representative of QANTASLINK please call:
Mr David De Bruin
Regional Sales Manager QantasLink
PH: 07 33089074 FAX: 07 3308 9088 MOBILE: 0409475859 E-MAIL: ddebruin@qantas.com.au
If you would like to contact the Queensland representative of NBCF please call:
Deborah Scott-Ranson
Regional Development Executive - Qld
National Breast Cancer Foundation
P O Box 169 Morningside Qld 4170
07 3901 4647 or 0419 793122
www.nbcf.org.au
deborah.scottranson@nbcf.org.au


---

Damien Noll & Rick from Nightowl Entertainment Belting out a tune

Anthony from Australian Idol in Cairns 2006

Anthony belting out a tune in Cairns

Glen belts out a tune at a recent concert

Shannon signing some photos

---

Rebecca meets Australian Idol's Anthony Callea

Mario met with AFL Legend coach Kevin Sheedy

The Fro meets Peter Spida Everitt at the Paladium in St.Kilda Melboune

Good Friend and ex Idol Stu Campbell & Shannon belt out a song

Shannon Noll playing guitar 2006 Gold Coast

---

Mario & Jimmy Barnes




Mario & Jimmy




Jimmy Barnes signs a Gold Record




Jimmy live on stage

Shannon at the SOUTHPORT RSL on the Gold Coast in 2006

---

Guy Sebastian

Lee at southport RSL in 2006

Dan up close and personal with his fans on the Gold Coast 2006

Dan strutting his stuff at the Southport RSL in 2006




Mario, Shannon & The Boys at the After Party 2004

---


Glen signing an album for the RBWH Research Foundation

Up close and personnal with the Rock legend guitarist Geroge Benson on the Gold Coast

Glen Shorrock and band in a recent Australia Day 2007 Out door concert in Mackay

Shannon, Adam & Damien Noll at a recent dinner On the GOLD COAST singing up a storm

---

Even Rebecca gets in on the action as she meets one of her favourite bands The Veronica's in Brisbane

Rebecca get stuff signed by the Veronica's 2006

Caught up with the SCARED WEIRD LITTLE GUY'S Recently at the Gold Coast Art Centre in October 2006

Muza & Capper

Mario and The Choir Boys

---

Tina Cousins signing some of her CD's


Mario & Tina Cousins after her live performace Cairns 2005

Muzza & Guy