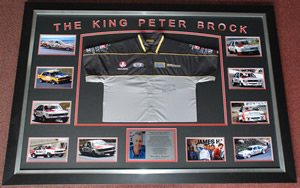 A TRUE COLLECTORS ITEM LIMITED TO ONLY "05" IN EACH SERIES WORLDWIDE"
COMMEMORATING ONE OF AUSTRALIA'S GREATS
A RARE ORIGINAL HAND SIGNED SHIRT, PHOTOGRAPHS, PLAQUE, & BEAUTIFULLY FRAMED MEASURING A MASSIVE 1700 X 1200
ORDER YOUR'S TODAY AND SECURE A PIECE OF RACING HISTORY "NEVER TO BE REPEATED"
5 X Grey Shirts & 5 x Black Shirts.....That's it!
FREE CALL: 1800 30 38 48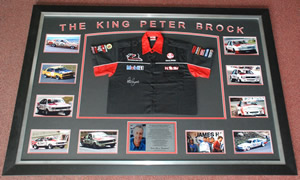 $3,995.00 FREE DELIVERY AUSTRALIA WIDE
Many collectors have already been asking for number "05" from the limited edition series
WHAT ARE YOU PREPAIRED TO PAY FOR IT?
"05 OF 05" WILL BE SOLD FOR ???????
Whatever the amount is achieved above the sale price MJZ ENTERPRISES P/L WILL donate that amount back to" THE PETER BROCK FOUNDATION"